WHY COULDN'T YOU HAVE TOLD US THIS YESTERDAY WHEN WE WERE AWAKE?
santana jacinta ramirez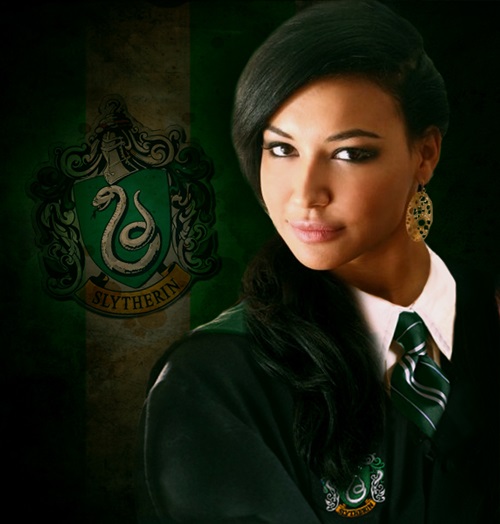 ANYONE CAN SPEAK TROLL, ALL YOU HAVE TO DO IS POINT AND GRUNT
character basics character basics character basics character basics character basics character basics
Name:
Santana Jacinta Adelina Ramirez
Nickname(s):
San, Sanny, Tana
Age:
15
Wand:
Up to taker
Patronus:
Up to taker
House/Job:
Slytherin; beater on the Quidditch team
Blood Status:
Pure-blood
Sexuality:
Either bisexual or lesbian (however is in the closet)
Marital Status:
In love
Ethnicity:
British-Spanish
HE CAN RUN FASTER THAN SEVERUS SNAPE CONFRONTED WITH SHAMPOO
appearance appearance appearance appearance appearance appearance appearance appearance
Hair Colour:
Black
Eye Colour:
Brown
Distinguishing Features:
Both ears pierced. Everything other than that up to taker
Face Claim:
Naya Rivera
HE'S NIPPING OFF TO THE CHAMBER OF SECRETS FOR A CUP OF TEA
personality personality personality personality personality personality personality personality
Likes:
Getting her own way, dueling, Quidditch, rest up to taker
Dislikes:
First-years, rest up to taker
Habits:
Up to taker
Personality:
Quick to judge, persuasive, manipulative, always has to get her own way. She constantly keeps up appearances by appearing aloof and confident, when underneath she is actually highly afraid of being alone and afraid of being outcast by her peers and family for being in love with a female. She always says what's on her mind, making her seem bitchy at times. She is, however, rather loyal and protective over a select few friends, such as Daphne and Alanah. Rest is up to taker.
WE TRIED TO SHUT HIM IN A PYRAMID BUT MUM SPOTTED US
history history history history history history history history history history history
Hometown:
Up to taker
Father:
Alberto Rosario Ramirez
Mother:
Nieva Elvira Ramirez (nee Sanchez)
Siblings:
None
Others:
Daphne Greengrass, friend; Alanah Brittney Cavanaugh, best friend and crush (Hufflepuff), Maribelle Sanchez (grandmother). Rest are up to taker.
History:
Born as an only child to a Spanish mother and an English-but-Spanish-by-decent father, Santana grew up as the apple of her parents eye. She was never in want in anything; she always got exactly what she asked for and so much more. Due to this Santana grew up rather spoilt and demanding; she got used to getting her own way from a very early age.
As she grew older, her parents would leave her with her grandmother while they were away at work. Her grandmother was quite the abrasive lady and this is where Santana picked up her own abrasive attitude. However she loves her grandmother dearly and cares a lot about what she thinks and has to say (even though she pretends sometimes that she doesn't).
Upon starting Hogwarts, the quest for popularity became a big thing for Santana as she was deathly afraid of being alone. Thanks to her personality only her own house liked (or rather tolerated) her, but that was ok with her. She played the role of the confident rich girl who cared way too much about blood-purity well, even though she didn't really care about blood-purity nearly as much as she pretended, nor was she very confident.
In her fourth year, she began to feel attracted to Alanah Cavanaugh, a Hufflepuff student Santana had previously only known through Quidditch and the odd class together. Santana made friends with Alanah and the two became really close. The Slytherin girl instantly became protective over her friend and would stand up for her regularly, as the Hufflepuff often got teased for being a ditz. The friendship began to change Santana for the better, and the girl learnt to be a bit more kind and have just a tad more compassion. Later that year, when Daphne Greengrass punched out Draco Malfoy in the common room, Santana decided to take Daphne under her wing. And what Santana wanted, Santana got. Daphne originally rebuked Santana because of her personality and treatment over non-Slytherin students. However Santana persisted, not used to being told no, and Daphne eventually became friends with her, seeing that she wasn't as bad as everyone made her out to be.
Everything else is up to the taker.